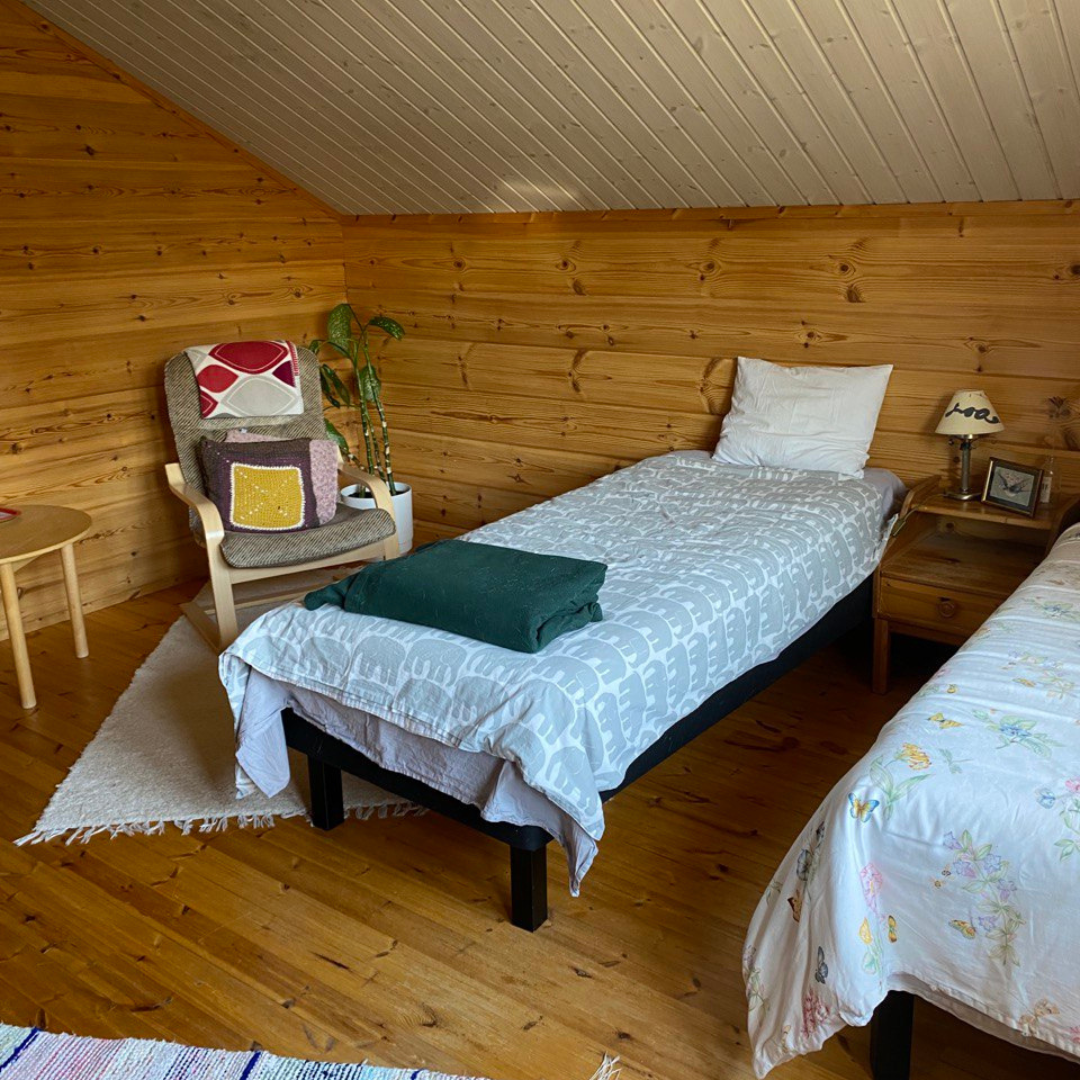 RESEARCH TRIPS: REFLECTIONS
POSTED 05.07.2023
Wrapping up the first half of this year's activities, we share the summary of the research trip conclusions. The following entry consists of three texts written by Reside/Sustain research team as reflections on the field studies of Finnish residencies in private spaces.
In short, in the following texts you can find:
⁃ various understandings of sustainability that residencies open up;
⁃ importance of individual contribution highlighted in private initiatives;
⁃ practical ideas for potential collaborations and resource sharing.
See detailed field notes/diaries from each venue here: Hyrynsalmi, Värtsilä/Tohmajärvi, Raasepori/Tammisaari, Joutsa.
Adel Kim: Art residencies in private spaces, the case of Finland
When we started this field study of Finnish artists' residencies in private spaces, I assumed that they could be distinguished into a separate category, a kind of homogeneous phenomenon. My hypothesis was that residences located in, or close to the living quarters of their organizers, would be characterized by non-institutional and non-hierarchic attitudes, a free approach to management or even a complete rejection of it, plasticity and the ability to adapt easily according to current needs.
 However, this was a premature judgment or, at least, a generalization of a more complex picture. Indeed, most of the residences we visited are, in one way or another, connected to the private spaces (physical or informational) of those who initiated or managed them. But despite similarities, these residencies are too diverse to coin with a common term, at least for now. There is no direct connection between the degree of privacy of the organizer's residence and the institutionality of the residence.
For example, the residential areas of the residency in Värtsilä are part of the municipal housing block and are currently providing emergency support to artists from Ukraine. Residents live in private apartments, and the personal space of their organizer, Karoliina Arvilommi, exists separately and independently. She is a host and a facilitator, but not the owner, although her doors are open to residents, and she can be reached by phone at all hours. While the art center Haihatus in Joutsa has a residency programme, other new initiatives are continually being added under the Haihatus umbrella– for example, Kita, the Museum of Kinetic Art. At Haihatus, the director himself lives in one of the buildings on the center's premises. The curators of the TUO TUO residence also live in the same building, a former school, as their guests although their initiative is in the legal form of an association.
Strictly speaking, among the residences we visited, only the ones that have recently opened or planned to open, offered the shared living space of a private  homeowner: these are the initiatives of Meri Linna, Arlene Tucker and Perttu Saksa. Due to their novelty, the assumption of plasticity is difficult to review (although the case of Kaitlyn and Joni from TUO TUO argues in its favor – over the years they have changed the program through reducing and unlearning practices). But in general, I assume that evidence will determine the development of tendencies, their possibilities and sustainability in the near future.
Despite the divergence between expectations and reality, I would still like to propose a few considerations that, in my opinion, characterize residential initiatives in private spaces in Finland, based on the limited knowledge gained.
First of all, all of the residences we visited are situated outside of major urban centers. For example, Värtsilä (approx. 600 inhabitants) is part of the Tohmajärvi district, with a total population of just over 4,000, the same as in Joutsa. Åminnefors is part of Raasepori with almost 7,000 inhabitants. In general, this may not point to anything other than lower real estate prices. But it is worth noting that most of the participants in our discussions moved to their new place of residence no more than 4 years ago.
It is no secret that the sparsely populated and remote rural areas (not only in Finland, but in the Nordic countries in general) have experienced a shrinking of their population over the past few decades. However, during the COVID-19 pandemic, self-isolation and the period of restrictions that lasted in Finland until the first half of 2022, this shrinking process slowed, and the movement of the urban population to rural areas increased, although on a very modest scale.
There is an assumption that this trend began before the pandemic. In fact, the number of people moving to semi-urban municipalities rose from 250 to 1,000 between 2019 and 2020. Supposedly, one of the reasons for such growth was that people planned their relocation before the pandemic and accelerated the implementation with the outbreak of COVID-19. This assumption is supported by the fact that the popularity of country life has not declined after the pandemic: a recent survey showed that among 1,000 Finnish people the desire to move to rural areas has significantly risen, compared to 2019 – 44% of respondents expressed their interest in moving or shared their existing plans to do so. At the same time, owners who are losing hope of selling their depreciated, rural real estates, are looking for ways to maintain their houses: recently, a new Tinder-like service was announced which connects rural homeowners with enthusiasts willing to look after the homes.
Thus, to a large extent, residencies in private spaces emerge along with the rise of a domestic migration and a popularity of rural areas in comparison to urban regions. Undoubtedly, each of these initiatives is its own particular case, primarily determined by the personal circumstances of their organizers. However, it is likely we are now observing the emergence of a new type of residency that will continue to develop in the coming years.
Among the opinions expressed by our panelists was: "It's easier to do it in a small place". Not everyone agrees with this statement – it is not so much the place and the size of its population that matters, but rather the available (or unavailable) support. My second consideration is that it is not the scale of the administrative entity, but the specific individuals that play a determining role in the rise of residencies in private spaces. Perhaps self-organized residencies provide a good example of the fact that any initiative or institution is first and foremost the people who make it, their strategies, willingness to communicate, to seek support, and to build partnerships. It is also the circumstances, whether it is the representative of a local municipality or an artistic community, who is not an abstract institution but a person – this is especially evident in the case of Värtsilä. Neoliberal economics assert the substitutability of bodies and ideas; personal initiatives, by contrast, show that behind every endeavor there is a particular individual. 
Moreover, we were able to find several initiatives in almost every location, suggesting that networks of residencies grow organically. For example, Arlene knew about the TUO TUO residence in Joutsa, so she considered this town for relocation. TUO TUO, in their turn, partnered from the beginning with Haihatus, a local pioneer in contemporary art. The chain reaction of peer support creates constellations of artistic initiatives away from the major centers. And one more point I would like to develop in the following texts – sometimes spending time in a residency leads to relocation ("residency to residence"), when a former participant, having become accustomed or charmed by the place, stays to live permanently, and sometimes to continue working in the organization itself.
My third idea, based on the material received, is that private space up-scales residencies' inherent communication features, both internal and external. The concentration of responsibility in the hands of one person results in taking on several simultaneous roles (as the organizers say, "we wear many hats" that of the host, landlord, friend, curator) and there is a large workload needed to address issues of all kinds, from housekeeping to fundraising. This situation leads to the formation of certain boundaries and involvement in the process to avoid a burn out.
At the same time, as Meri told us, local residents also have, upon learning that an artist lives nearby,  a number of expectations, which were not directed, e.g., at the team, but at one person. The museum public in cities is accustomed to visiting cultural centers, where impersonal interaction with art objects prevails; rurally located art residences shorten this distance, opening up opportunities for informal meetings between artists and visitors. This requires the organizer to build trusting personal relationships and, if possible, remove the high "threshold of entry" into contemporary art events (through, for example, "kahvi ja pulla" style events - coffee and tea parties, informal meetings, etc.).
Finally, the information collected leads us to conclude  that residences in private spaces emerge:
- as a response to an urgent need (a public one, if it is a humanitarian crisis related to war; or a personal one, if, for example, it is the desire to leave the big city and to not participate in the neoliberal race);
- as a way of sharing available surplus resources – particularly living and working space, contacts, knowledge;
- as an attempt to create a like-minded community, to fill their homes with guests, events, and art.
What is the future of such residencies? It seems to me that the financing of private initiatives is the cornerstone of their subsequent sustainability, which could also support the enthusiasm of the organizer. Based on the discussions, the following visions can be proposed:
- large institutions could work in collaboration with such residencies as funders and organizers, and residencies could serve partnership projects as local operators and managers (as Meri Linna and Dafna Maimon have discussed);
- residencies can create a network of mutual assistance, refer artists to each other, and use shared resources when needed;
- residencies can be paid for by their participants, which is generally the most common method for Finnish residencies (and art production in general: a detailed analysis of the gallery rental system can be found in Minna Henriksson's text for Art Workers collection)[1] – but seems to be a very time consuming way to generate funds without any guarantee;
 Should the trend of residencies in private spaces (in whatever form) continue to develop, one might envision the emergence of separate formats of support for residencies of this scale, which might require them to merge along with new corresponding requirements that emanate from this.

[1] Minna Henriksson, Gallery Rent Model: Owner-Tenant Relations in Exhibiting. E. Krikortz, A. Triisberg, M. Henriksson (ed.), Art Workers, Berlin / Helsinki / Stockholm / Tallinn, 2015. Pp. 39-58.
Angelina Davydova: Re-thinking sustainability in residencies
Now, when our research trip program of visiting residencies in private spaces has come to an end, it is time for reflection on the conversations we had with the residency practitioners about their understanding and implementation of sustainability principles.

For me, one of the main take-aways from these trips was the idea that the understanding of sustainability, with regard to the residencies, but not exclusively, needs to be broadened and made more inclusive. Many practices in our life and work need to be re-considered, new daily actions introduced, tested and amended when necessary, material and immaterial aspects included.
There is a widely known explanation of what sustainability is, by means of three intercrossing circles: environmental, social and economic. Then there are the 17 Social Development Goals, which further expand the understanding of what sustainability is, to a new level. There are many more definitions and infographics which attempt to be as broad, systemic and inclusive as possible. However, in various sectors, from business practices to art, sustainability is still very often perceived through a rather narrow perspective, that is, mostly from environmental and climatic aspects.
One of the objectives for our research trips to the art residencies in Finland (Mustarinda, Värtsilä, Raasepori, and Joutsa) during the first two weeks of May was to research the way sustainability is considered, both by the residency staff and the residents themselves, which practices are being implemented, which questions still unresolved.
Environmental practices were the easiest to see and talk about. Many art residencies, especially in more rural places in Finland, process their bio-waste into soil or natural fertilizers, use dry toilets, install heat pumps to replace heating with gas or oil, encourage residents to use practices of sharing artistic materials and exhibition equipment among others, promote practices of low-carbon use, post-fossil and zero-waste lifestyles, work and artistic production, try to stick to land-based travel and use local, climate-friendly food options.
But then there are many other aspects of sustainability, which are often much more difficult to trace, account for, implement in practice and to quantify.
Among them: human relations, principles of care, respect of boundaries, but also willingness to help. Or the division of work and life, respecting the limits of the people running the residencies, personal responsibility, decision-making and boundaries.

A linked topic to this is the theme of becoming less overloaded and overworked, putting a greater value on 'doing nothing', 'being lazy', 'de-learning or un-learning yourself'.

Another broad theme which often came into discussion was the relationships between larger art and cultural institutions and smaller ones, including art residencies. How can this distribution of power become more sustainable, more inclusive, with many more opportunities for long-lasting cooperation? 
Yet another topic connected to this is what additional models for supporting artists, including strategies for continual co-commission of artists by larger art institutions, smaller groups and maybe educational or municipal organizations as well, can be developed and sustained. 
Then comes the whole question of interaction between educational and art institutions, including educational activities by the artists who often engage in teaching, to support themselves. How could these formal and informal teaching activities become more sustainable, more equitable for the artists and more beneficial for people of various groups from the local communities. 
Cooperation with local people from the community and trying to conceive ways  of making the work of art residencies more approachable for people living in the region, was also at the core of our discussions. There is a growing need for events that would  "open up" the artistic vision to the community, facilitating the community's transition into the art world, instead of reinforcing the fear of not understanding and pressuring participation. On the other hand, artists and residency practitioners spoke about how certain art might not be accepted or liked by the local community and how the artists might not necessarily want or need to share all they do. Among possible solutions is the idea of layering – doing something for the community, but at the same time doing something different that interests the artists solely for their artistic practice, along with ideas of more frequent social events with the local community, from salons to tea parties. 
Finally, the idea of organizing art-residencies into self-helping networks, supportive partnerships and long-lasting cooperations also often came up in our discussions.  Such networks of support, sharing resources, cross-residencies,  offering short term housing and many other forms of cooperation – can also provide sustainability for the residencies themselves, balancing spikes and downfalls in the demand/occupancy/project finances and enhancing more solid structures of organizational function. 
Overall, I think that many of the ideas and conclusions we came up with in our discussions also correlate with the general debate about sustainability, climate-friendly lifestyles and necessary transitions within society, as well as within political and economic systems: these changes and transitions are possible not only by means of new technologies and new sources of finance (or redirecting financial resources from other sectors), but also through new approaches to governance, planning, new flexible mechanisms for how we organize our work or build and develop institutions, attention towards detail, care of people, and the importance of interpersonal relations. In addition, it is also about values, for example, what is being considered as 'important' or 'successful', and what can gauge the result.
After the two weeks of travel across Finland, visiting private art residencies and engaging in formal and informal discussions, discovering local homes and nature, cooking together, talking to residents and members of the local community, we have certainly discovered many additional aspects of sustainability in residency practices, and these might be less known in both the sustainability and artistic communities. For the continuation of this project we hope to take this research and conversation further, developing them both on theoretical and practical levels. 
Miina Hujala: The ecologies of sharing of residencies
In this summary, I will present some thoughts that came to mind after having been conducting research trips in Finland to visit residencies that are initiated by private people (usually artists) but also visiting residency facilities and organisations functioning near by. The trips were made in spring 2023 to Hyrynsalmi, Värtsilä/Tohmajärvi, Raasepori/Tammisaari and Joutsa.
As organising a residency is not only about offering a place to stay but also very crucially about facilitating that stay, the human element of hospitability is central. Someone(s) are hosting, enabling, and activating the interaction, inviting, accepting, arranging and taking care of bills and spaces. It is always reliant of touching upon various material and economic processes as well as communicative, evaluative and precarious situations that people activate when participating in a residency.
The questions of heating and meeting, mobility and ability will all tie in to the operational structure, logic and practice. The strengths and actualities of providing for this fall on those that are responsible for running the residency, and are especially demanding if the operational structure is based on one-person private initiative.
Hospitality work will inevitably then blur the boundaries between what is the work time and off-work time when living and working coexist in the same place and space.
And when thinking of the attachment of all the societal and interactive practices to the 'ecological register' where we acknowledge and understand as well as appreciate our connectedness to the material and the natural habitat with its possibility to support and enable our livability, we can very straightforwardly see that the pressure for change is huge. Our cultural need to not only withdraw from using fossil fuels but reducing in all fronts the act productivity that its depriving the planet's ecological multiplicity. 
Residency activity as well as art field activity in general is not apart from this, and the merger of acts and deeds done follows our cultural understandings and possibilities. Our metabolism both biologically as well as culturally is connected to things that enable it in its various scales.
After conducting the research trips there were certain thoughts that arose that I think need to be addressed further to enable also looking into the acts of sustainability in the required light of enabling change. I aim listing them here briefly: acknowledging the personal impacts and strengthening the collaborations in the framework of sharing, shared resources mean also shared human resources as sustainability is also social and residencies are nothing without the element of interaction and facilitation (even though they would be "just in the background"), sharing is pooling the actual resources one has and providing info of these to others that they might also benefit (not everyone has to own their own car), lobbying the sharing practices to enable further development of infrastructure towards this.
Central questions:
- What is taking place and what resources are being used, could someone else benefit from these resources?
- How practices could be shared further? (How networks could benefit artists, how to pass info of what works and what not, could acts of sustainability be implemented as requirements when conducting networking/partnering?)
Concrete suggestions: 
- A shared coordinator position for enabling the economy of sharing; passing knowledge, coordination of logistics of resources and materials. Making a specific work effort possible where different organisations could together make possible. This task could be done as a rotating part time work task that participating organisations share and support. Also working as a pair in a team created from different organisations would be suggested. The employers could come from the network's existing workforce but could focus on the task for a certain period of time, and all the participants on the network could benefit.
- A tool / platform for networking / sharing through which resources could be managed and distributed. Becoming a part of the network would require committing to ecological principles of less consumption altogether, reuse of materials and sharing the possible  leftovers as well as working without using fossil fuels. 
- Look at the budget and see what you could reduce and what consumption take away entirely. Support people, and reduce buying products, artifacts and materials. When acquiring something, think how it could be reused and make joint purchases and trips together with other practitioners.